The Black Herald n°2 arrive
(31/08/2011)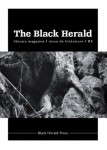 Literary magazine –Revue de littérature
The Black Herald issue #2 – September 2011 - Septembre 2011
162 pages - 13.90 € – ISBN 978-2-919582-03-7
Poetry, short fiction, prose, essays, translations.
Poésie, fiction courte, prose, essais, traductions.
With / avec W.S Graham, Danielle Winterton, Dumitru Tsepeneag, Clayton Eshleman, Pierre Cendors, Onno Kosters, Alistair Noon, Anne-Sylvie Salzman, Róbert Gál, Andrew Fentham, Hart Crane, Delphine Grass, Jacques Sicard, Iain Britton, Jos Roy, Michael Lee Rattigan, Georges Perros, Laurence Werner David, John Taylor, Sudeep Sen, César Vallejo, Cécile Lombard, Michaela Freeman, Gary J. Shipley, Lisa Thatcher, Dimíter Ánguelov, Robert McGowan, Jean-Baptiste Monat, Khun San, André Rougier, Rosemary Lloyd, Hugh Rayment-Pickard, Sherry Macdonald, Will Stone, Patrick Camiller, Paul Stubbs, Blandine Longre. and essays about / et des essais sur Arthur Rimbaud, Tristan Corbière, Jacques Derrida. Images : Romain Verger, Jean-François Mariotti. Design: Sandrine Duvillier.
The Black Herald is edited by Paul Stubbs and Blandine Longre
Comité de rédaction : Paul Stubbs et Blandine Longre
http://blackheraldpress.wordpress.com/magazine/the-black-herald-issue-2/
Where to find the magazine and our books / Où trouver la revue et nos publications :
http://blackheraldpressbookshop.blogspot.com/p/add-to-cart-ajouter-au-panier.html
And soon in bookshops listed here / et bientôt dans les librairies suivantes:http://blackheraldpress.wordpress.com/buy-our-titles/
Black Herald Press : http://blackheraldpress.wordpress.com/
Blog : http://blackheraldpress.tumblr.com
To follow us on Facebook / nous suivre sur Facebook : http://www.facebook.com/BlackHeraldPress
& Twitter : http://twitter.com/Blackheraldpres
Co-edited by Blandine Longre and Paul Stubbs, the magazine's only aim is to publish original world writers, not necessarily linked in any way by 'theme' or 'style'. Writing that we deem can withstand the test of time and might resist popularization – the dangers of instant literature for instant consumption. Writing that seems capable of escaping the vacuum of the epoch. Where the rupture of alternative mindscapes and nationalities exists, so too will The Black Herald.
L'objectif premier de la revue, coéditée par Blandine Longre et Paul Stubbs, est de publier des textes originaux d'auteurs du monde entier, sans qu'un « thème » ou un « style » les unissent nécessairement. Des textes et des écritures capables, selon nous, de résister à l'épreuve du temps, à la vulgarisation et aux dangers d'une littérature écrite et lue comme un produit de consommation immédiate. Des textes et des écritures refusant de composer avec la vacuité de l'époque, quelle qu'elle soit. Éclatement des codes, des frontières nationales et textuelles, exploration de paysages mentaux en rupture avec le temps : c'est sur ces failles que l'on trouvera le Black Herald.
"Black Herald Press is an outstanding new imprint – physically and stylistically their books are a delight." — Paul Sutton, Stride magazine, 10/2010.
« La ligne éditoriale de la revue s'attache avant tout à établir un horizon élargi et diversifié de genres, de langues et de styles. Aucun thème ni mouvement commun, simplement (et c'est là que se trouve tout le sel de ces pages) l'articulation d'hémisphères, quelques terres inconnues reliées les unes aux autres pour que le style, justement, de la revue, ce soit ce point de convergence des textes entre eux. » – Guillaume Vissac, 04/2011
"Its publication feels like an event, in terms of quality and scope (it's bi-lingual and has its sights, like Blast long before it, on the more visionary and European aspects of poetry)." – Darran Anderson, 02/2011
« Aux commandes de ce navire de pirates, Paul Stubbs et Blandine Longre, dont on avait déjà loué ici la sauvage poésie d'expression anglaise. Tous deux ont eu l'audace d'offrir à leurs contributeurs cette étrange arène où la langue, par le système d'échos qu'ils ont construit, ne peut être que remise en cause. Lecture jamais confortable, jamais contentée, donc, que celle du Black Herald, où chaque page, chaque texte, dans sa version originale et / ou dans sa traduction est source d'inquiétude. On attend avec une impatience certaine la deuxième livraison (automne 2011, nous dit-on) de ce super-héraut. » – Le Visage Vert, 01/2011
15:31 | Lien permanent | Commentaires (0) | Tags : revue, anglophone, francophone, poésie, nouvelle, essai, blandine longre, paul stubbs, black herald press |
Facebook | |

Imprimer |