Le messager noir, quatrième galop
(17/11/2013)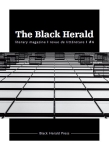 The Black Herald – nr 4, octobre 2013, Black Herald Press
Poèmes, proses, essais, photographies : le nouveau numéro de la revue bilingue (et même multilingue, en l'occurrence) offre un choix toujours exigeant, toujours gratifiant, et d'une haute tenue constante.
With / avec Steve Ely, Pierre Cendors, Edward Gauvin, Paul B. Roth, Jean-Pierre Longre, Rosemary Lloyd, Boris Dralyuk, Paul Stubbs, Georgina Tacou, John Lee, Cristián Vila Riquelme, Philippe Muller, Michael Lee Rattigan, Desmond Kon Zhicheng-Mingdé, Vasily Kamensky, David Shook, Oliver Goldsmith, Michel Gerbal, Gary J. Shipley, Anthony Seidman, Fernando Pessoa, Cécile Lombard, Anne-Sylvie Salzman, Heller Levinson, Jorge Ortega, Blandine Longre et des essais sur / and essays about Robert Walser, Arthur Rimbaud, Raymond Queneau, E.M. Cioran.
Images: Raphaël Lugassy, Pierre Cendors.
Design: Sandrine Duvillier.
The Black Herald
Literary magazine – Revue de littérature
Issue #4 – October 2013 - Octobre 2013
160 pages – 15€ / £12.90 / $20 – ISBN 978-2-919582-06-8 (ISSN 2266-1913)
Poetry, short fiction, prose, essays, translations.
Poésie, fiction courte, prose, essais, traductions.
now available / disponible
To order the issue / Pour commander le numéro
The Black Herald's editors are Paul Stubbs and Blandine Longre.
Comité de Rédaction : Paul Stubbs et Blandine Longre.
An interview with Paul Stubbs in Bookslut (October 2012)
Un article paru dans Recours au Poème (Octobre 2013)
22:04 | Lien permanent | Commentaires (0) | Tags : revue, anglophone, francophone, poésie, nouvelle, essai, blandine longre, paul stubbs, black herald press |
Facebook | |

Imprimer |